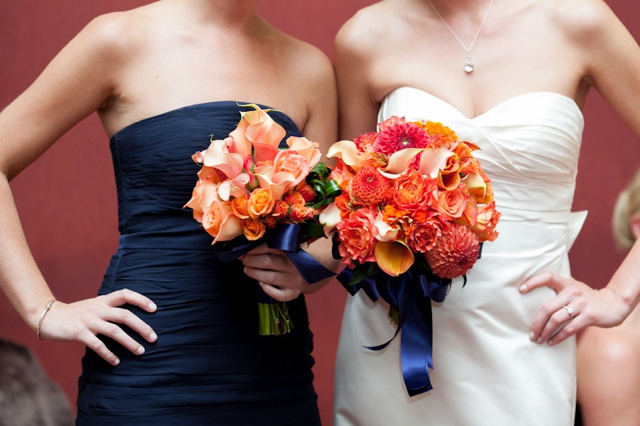 I should really start this blog post with a wonderful picture of my gorgeous bride and groom but I am after all a florist and I am obsessed with this image taken of our flowers. Many thanks to the amazing Tracy Timmester who photographed this wedding, her work was and always is simply remarkable and I am so grateful she shared these images with us today.  A big shout out and thanks also goes to the outrageously cool blond bomb, wedding planner, and event stylist, Laura from Events In The City,   Laura suggested our studio to the bride and she always allows me to get my design on!!! This wedding is so freaking beautiful and now I am going to bombard you with images because Tracy was so generous and because each image needs to be shared. You are going to have so much fun looking at this wedding!!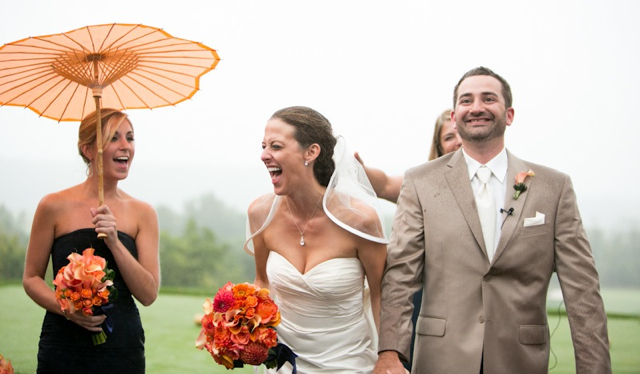 I keep looking at the pictures from this wedding and analyzing why I love everything so much, of course its the images themselves, the color, the style of the event, and my flowers, but its also because of  our gorgeous couple Whitney and Sean. Almost every image I saw of Whitney was one of her full out smiling, laughing, and enjoying her big day. Note its raining and she is still happy, and enthusiastically embracing the day that was given to her and Sean.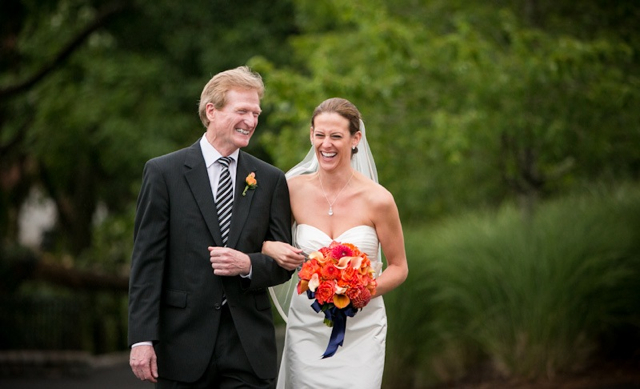 This is our bride coming down the aisle with her dad. Whitney and Sean married at the Trump National Golf Club.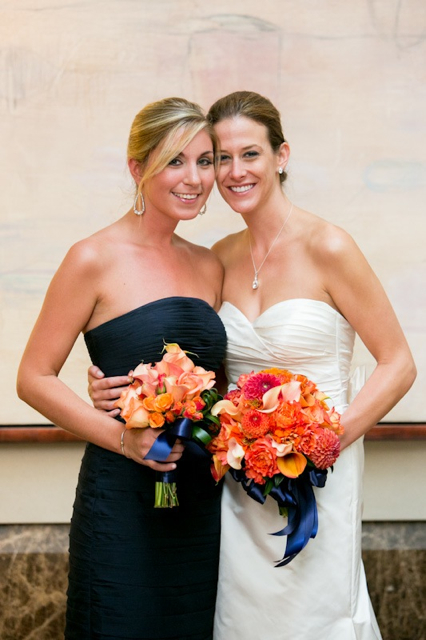 Maids bouquets were created with peach mozart mini callas, peach roses, and orange spray roses.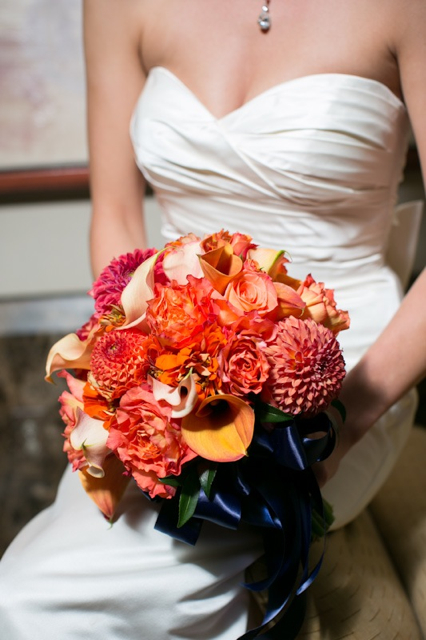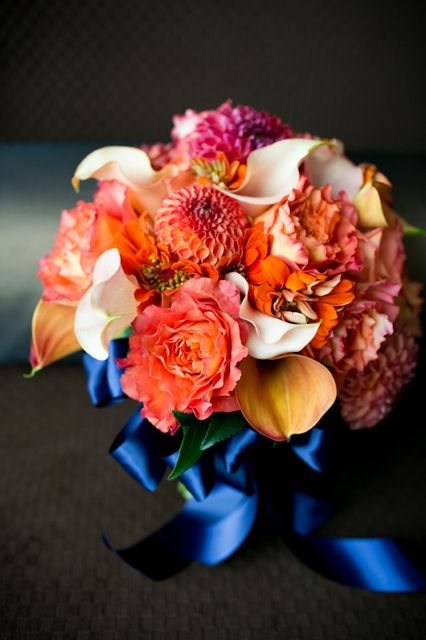 Whitney's bridal bouquet was created with orange dahlias from Don, free spirit roses, peach callas, orange zinnias from my garden, peach mozart mini callas, and orange mini callas as well. The bouquet was bound with navy blue ribbon.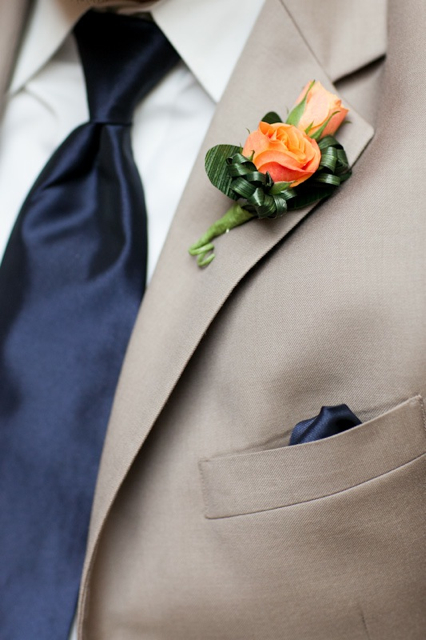 Our grooms bout was designed with orange spray roses and aspidistra leaves that we split and turned into a fun accent. This was a trick I learned in Holland and then again working on a special project in DC, I just took it to a miniature level.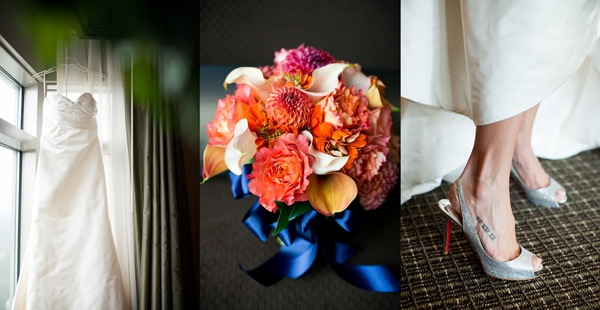 [image]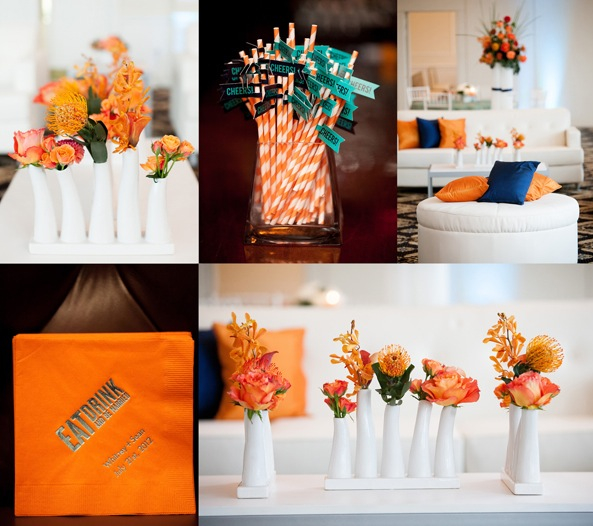 [image]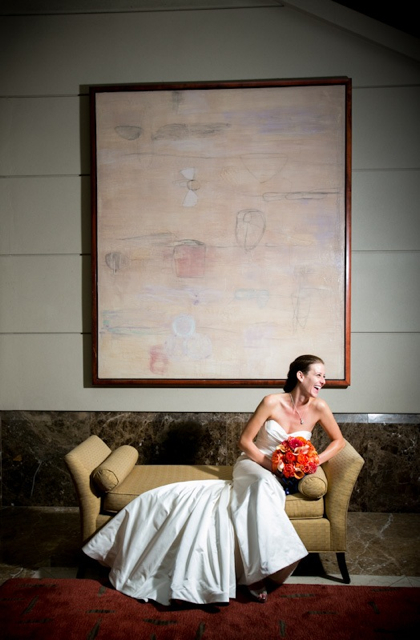 Gorgeous and smiling!!!

[image]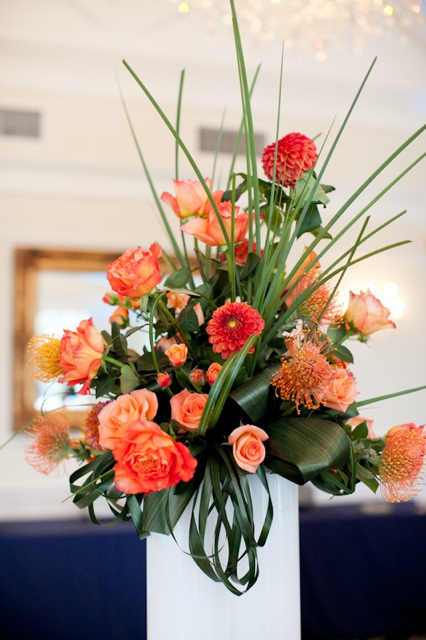 [image]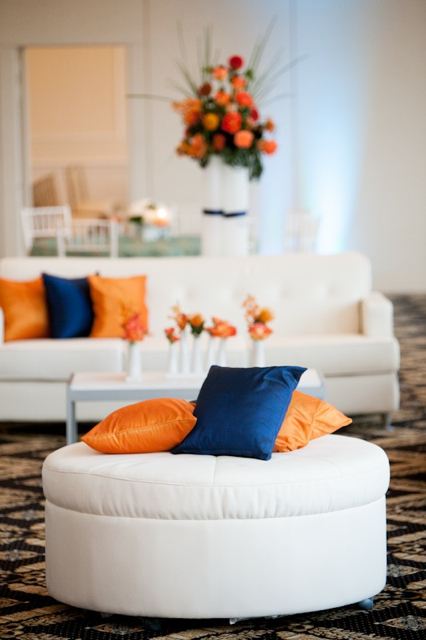 [image]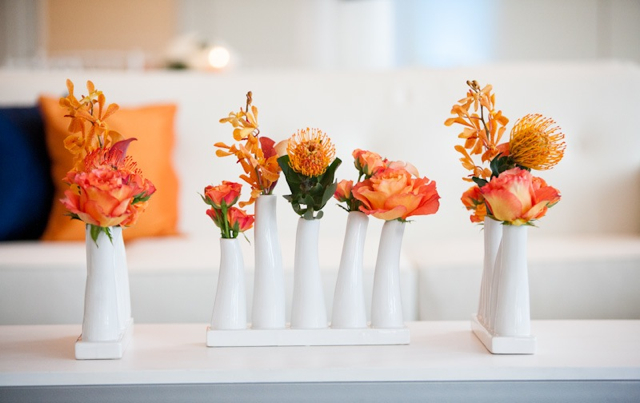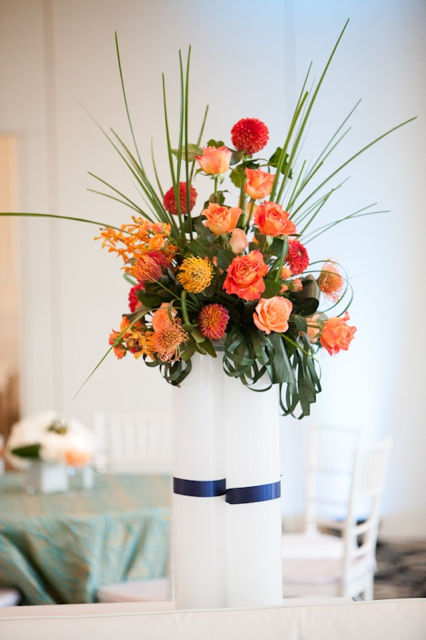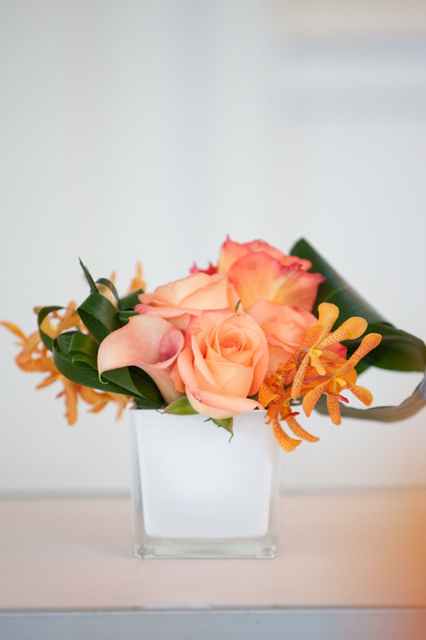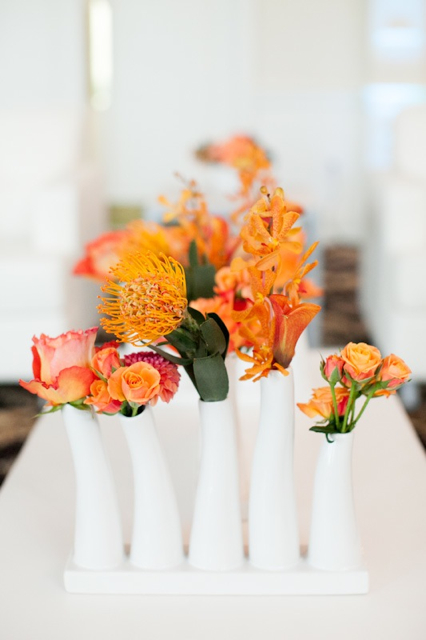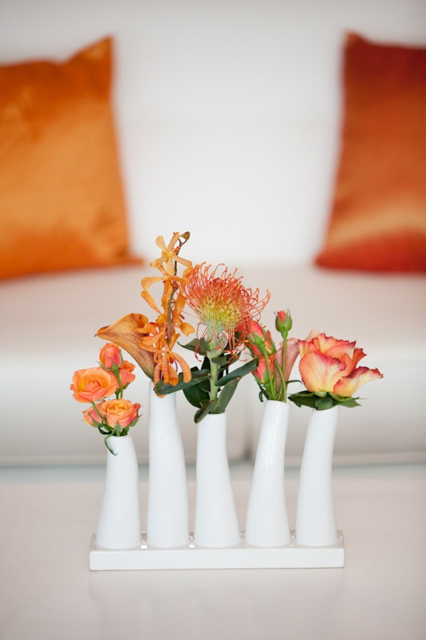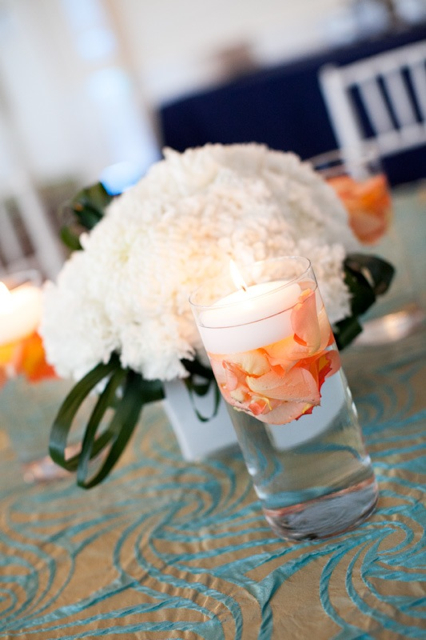 I loved every detail about this wedding, I loved the linens Laura chose, the furniture, the whole look and I really loved…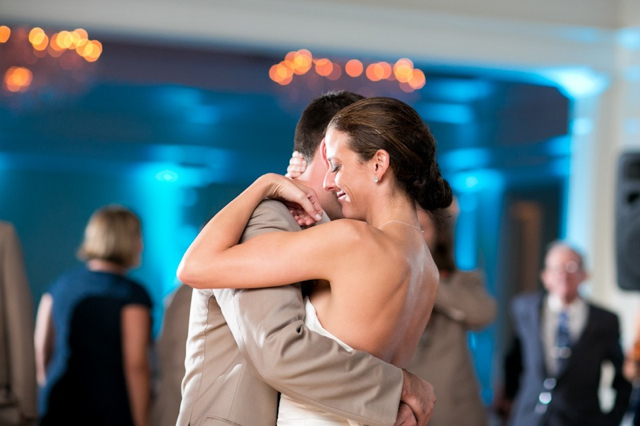 Evans kick a _ _ blue lighting. Another huge perk to having Evan on the team!!!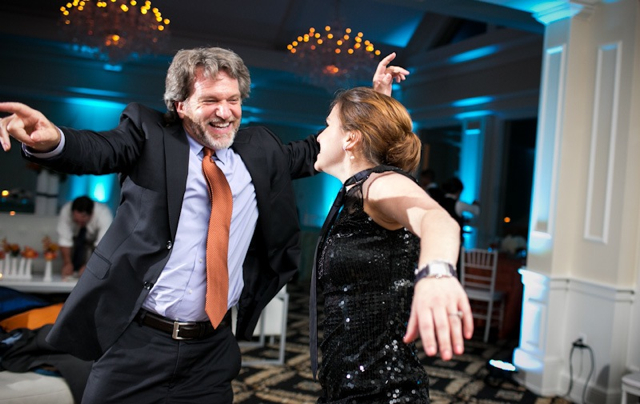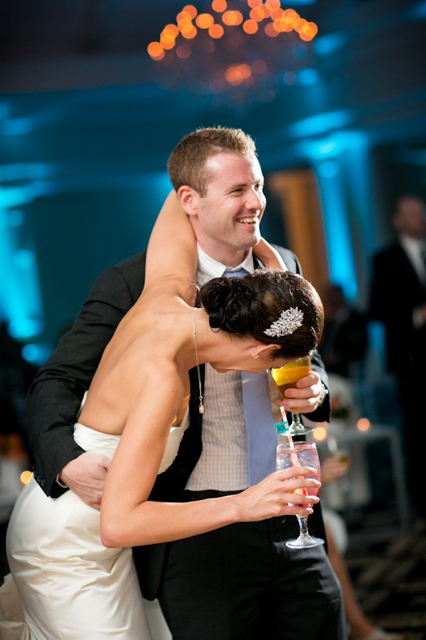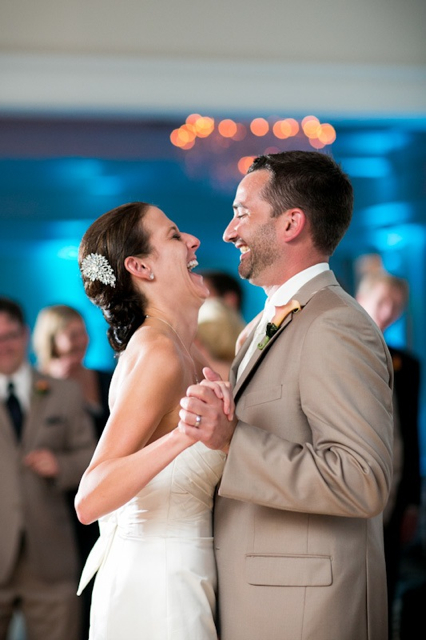 I hope every single one of my brides ends their wedding night, laughing, smiling and enjoying!!! Go Whitney and Sean it was a pleasure to do your wedding flowers, happy married life!!! We loved laughing, smiling, and enjoying with you!!
If you would like to see more images from this wedding jump on over to Tracy's blog where you can see more fabulous images here.  It's a fine day when the people are as pretty and as happy as the flowers!!
Second Shooter & Assistant:  Artemas Mott & Julia Devine
Venue:  Trump National Golf Club
Wedding Coordinator & Designer:  Laura Ritchie, Events in the City
Florist:  Holly Chapple Flowers
DJ:  DJ D-Mac
Lighting:  Evan from Holly Chapple Flowers
Hotel:  Hyatt Regency Reston